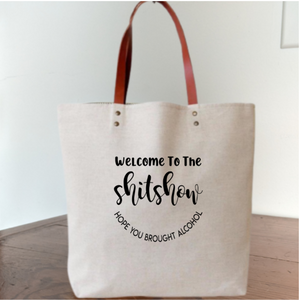 One bag that you'll be carrying around all the time!! Your everyday bag, grocery shopping, farmers market, library bag, book bag & yes, your bag for holding your liquor!!! LOL My favorite is to use these as a gift bag... giving a gift inside a gift. Like liquor!!! :)
Cotton tote bag with light brown faux leather handle.
15" (w) x 16.5" (h). 
All totes are washable!