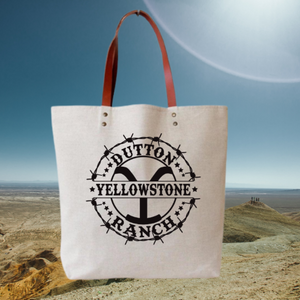 The most watched TV series  for the last (??) years?? I have no idea, I just know that everyone LOVES this series!! So you better get one of these Yellowstone|Dutton Ranch tote bags for yourself & of course, the friends you watch the tv series with...BEFORE THEY'RE GONE!! 

One bag that you'll be carrying around all the time!! Your everyday bag, grocery shopping, farmers market, library bag, book bag & yes, your bag for holding your liquor!!! LOL My favorite is to use these as a gift bag... giving a gift inside a gift. Like liquor!!! :)
Cotton tote bag with light brown faux leather handle. 15" (w) x 16.5" (h). 
All totes are washable!