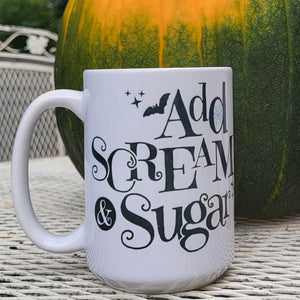 Who loves changing everything for whatever season or holiday it is?? I totally do. I even change my dishes AND the pictures in my home for the different holidays!!! LOL So changing mugs is like the easiest thing for me to do. Here's our NEWEST fun Halloween mug!!
"ADD SCREAM & SUGAR" 
Best creepy mug of the season & is just the beginning!!
15oz 
white ceramic
NOT dishwasher safe