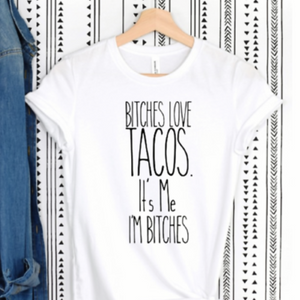 You think you love tacos??? You've never seen the crazy people I know that REALLY LOVE TACOS!!!!! Like super-crazy taco lovers!! LOL It says....
"BITCHES LOVE TACOS, IT'S ME I'M BITCHES"
If you're one of them, then this shirt is FOR YOU & the rest of your taco-clan!! You'll be feelin' like you really belong in the club when you wear this tee. Make sure to get one for your BFF!!!!
60% cotton
40% Poly
TTS
Unisex